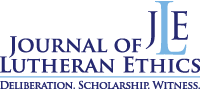 The Journal of Lutheran Ethics (JLE) is a free, bimonthly, online publication living out the Lutheran tradition of addressing social issues theologically.  It does so using the resources of historical, theological, and ethical reflection, biblical interpretation, and scientific knowledge.
A bridge between the academic study of Christianity and the contemporary life of the Church, JLE's connects the insights and perspectives of people in many vocations.  It connects pastors and bishops, theologically informed lay persons, seminary and university students, professors and scholars, advocates, and activists. JLE is updated bimonthly, and JLE readers can sign up to receive notice of updates.
JLE publishes scholarship, study guides, and book reviews. It publishes original articles and makes important, previously published contributions to ethics available electronically. Among its resources are brief opinion pieces on contemporary issues and longer scholarly works.
JLE is published as part of the work of Theological Ethics in the Office of the Presiding Bishop of the Evangelical Lutheran Church in America (ELCA).  It offers a forum to clarify, deepen, and enliven ethics and contributes to the ministry of the ELCA by promoting reasoned constructive dialogue among faithful people, aspiring to speak in love while seeking both challenge and understanding.
Click here for more information on what and how to contribute to JLE.
JLE solicits original articles and welcomes unsolicited contributions.
The views expressed by individual contributors to JLE are those of the authors, not of the ELCA.
More about JLE…
Christian ethics approaches the moral life from within the life of faith. The Lutheran ethical tradition understands the life of the baptized as one lived in grateful response to God's love for sinners revealed in Jesus Christ. The gift of faith in this good news frees believers to a new way of life in God's world in which faith is active in love and love does justice.
JLE views the scope of Lutheran ethics broadly. The Journal embraces foundational questions and current social issues, exploring the concerns of both church and society. The writing probes personal and public dimensions of the moral life; domestic and global issues; individual and corporate responsibilities.  It investigates biblical, theological, and historical material for the church's social witness and encourages reflection on vocation (living out the Christian callings as family member, citizen, worker, student, parent, etc.)
JLE reflects the ELCA's ecumenical and inter-religious commitments as a participant in a worldwide Lutheran communion. The journal welcomes use by and contributions from persons in other Christian traditions or faith traditions around the globe. It seeks to bring the distinctive concerns and contributions of Lutheran ethics into an ongoing investigation and conversation about the moral life. While rooted in the Lutheran home it invites people from other religious and secular traditions to engage in the discussion.
Click here for more information on what and how to contribute to JLE.